Mancuso Motorsports Presented with Ethics Award
Posted Tuesday, Mar 17, 2020
Wins Better Business Bureau of Chicago Torch Award for Business Ethics
Mancuso Motorsports, Chicago's premier provider of sports luxury cars, has been presented the Torch Award for Marketplace Ethics by the Better Business Bureau (BBB) of Chicago and Northern Illinois.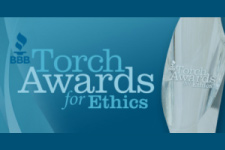 Given to just six businesses from a field of over two hundred nominees, the Torch Award spotlights companies that exemplify marketplace trust and excellence.
Steve Bernas, President and CEO of the BBB, said, "The Torch Award is the premier award the BBB can present to a company. Torch Award winners demonstrate the highest ethical standards of trust and behavior toward customers, business partners, shareholders, employees, and the communities in which they do business."
According to Rob Mancuso, President of Mancuso Motorsports, "Receiving the Torch Award would not have been possible without the commitment of our entire team to making business ethics guide everything we do. Also, I would like to thank the BBB for providing us with the guidance and resources we need to deliver the best possible customer experience."
The Mancuso family is approaching its 100-year anniversary in the automobile business. Founded in upstate New York, the company expanded into Chicago in 1953 when Jim Mancuso opened Mancuso Chevrolet. Franchises operated over the years include Cadillac, Honda, Saab, Maserati, Ferrari, Aston Martin, Porsche, Lotus, McLaren, Peugeot, Buick and Oldsmobile.
For further information, visit www.mancusomotorsports.com.
ABC7 Chicago coverage https://goo.gl/Y9oIBF