Mancuso Motorsports Changes the Deal
Posted Tuesday, Mar 17, 2020
When Rob Mancuso grew up, the center of his universe was Detroit. With a prominent Chevrolet dealer as his father, his DNA was rich with petrol. That should come as no surprise in a family about to celebrate 100 years in the automobile business.
When asked about his fondest childhood memories, he goes right to the summers he spent working at the family dealership, first as a porter and finally moving into management, many years later. "One of the biggest thrills I had was getting my own key to the store at age 16. I would walk through our parts room after hours, looking at big block motors and Corvette tri-power manifolds, thinking, 'It just doesn't get any better than this.' Then, my dad built a quarter mile test track behind our store. It was the age of high-compression motors and muscle cars. I'll never forget the fun I had."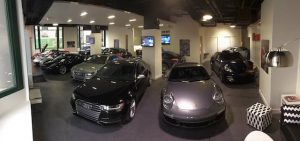 After attending Princeton, Rob did the logical thing and entered the family business. In fact, he wrote a book about it - Assuming the Position, A Family Business Survival Guide. But with the help of his father enabling two decades of successfully growing his own enterprise, his passion began to wane, with manufacturer requirements and working capital needs became increasingly onerous. So, he sold his Honda, Cadillac, Saab and Chevrolet dealerships and went corporate, as a vice president of an Aon subsidiary that consulted to automakers and large retailers to increase customer satisfaction and build additional profit centers.
After 15 years and several promotions, including global vice president of communications and a stint working with Chinese automotive consolidators, the opportunity presented itself to rejoin the rank of retail, although this time, with a twist.
"I love everything about the business - staff, clients, the inherent innovation in the industry, but I no longer have the passion to commit a huge calorie burn for microscopic margins," he said. So, Rob put together a business plan for a right-sized, low volume but high margin specialty and exotic car dealership in the heart of downtown Chicago.
"Others have done this, but they're all trying to be the biggest and loudest. I've been there, done that. What I've always really wanted to do was to create a zen environment that was more "undealer" than dealer; a place where people who love cars would want to go, with a customer strategy and sales process that is collaborative, not adversarial."
The result is a refreshingly inviting and contemporary space at the base of a luxury high-rise in the heart of Chicago's restaurant and club district. The feel is more spa than sales floor, with a chill vibe and soundtrack that eases urban stress and sets the mood. Everything, down to the wardrobe for the sales force, follows the strategy of making the customer comfortable - so no suits and tie bars. The look here is more expensive jeans and Gucci driving shoes, much like the target customer base.
From the outset, the customer experience is unique. Each guest is greeted by a product specialist seated behind an approachable reception desk and asked to indicate when they require assistance. The sales presentation is handled entirely by the specialist, who despite customer pleas, cannot and will not discuss pricing. He or she is strictly an information resource.
Once a vehicle is selected, Rob or his general manager introduce themselves and discuss pricing. As for financing, leasing or any add-ons, the transparency continues, with the customer given a contact to deal with directly at the source, easing the typical pressure some customers feel at the point of purchase and allowing a more confidentiali interchange.
Since opening, Rob's staff of just three have become almost like family. "I was lucky to recruit the perfect team - an experienced specialty pre-owned buyer and seller; a successful high-end sports/luxury salesperson; and, an energetic and well-educated marketing manager. We do everything as a group, including discussions on hours, inventory, social media, even lunch. Everyone has a voice in everything we do. I was never able or comfortable with a process like this in my past life. Not only is it more effective, but also much more satisfying. Everyone has a stake in our success."
Just four months in, Rob is establishing a track record, recently selling a $1 million collector vehicle. In addition, he's found a market niche with pre-owned Porsches and Audis, selling most of his vehicles on the internet across the country. Being mindful of his local market, and as a past chamber of commerce and Rotary club president himself, he is actively involved in the Chicago business network.
"This is the deal I've always wanted, but that doesn't mean it's easy. Low volume/high margin is only good so far as the volume part of the equation performs, but we're making progress every day. All I know is that this is the right location, the right team, the right products and processes and the right time. Everything I learned from my father and my brother support what we're doing. The rest is up to me."
Visit our website at http://www.mclarendowntownchicago.com
Visit Amazon for Rob's book at http://www.amazon.com/Assuming-Position-Rob-Mancuso/dp/09...
Visit us on Facebook at https://www.facebook.com/MancusoMotorsports