Mancuso Motorsports Awarded Lotus Dealership in Chicago
Posted Tuesday, Mar 17, 2020
Mancuso downtown Chicago location features new Lotus automobiles as well as pre-owned sports cars, including Porsche, Ferrari, Maserati, Aston Martin, Jaguar, Land Rover, Mercedes Benz and Audi.
Mancuso Motorsports, Chicago's premier provider of sports cars, has been awarded the factory-authorized Lotus sales and service franchise for Chicago by Lotus Cars, USA, Inc. The new dealership will be named Lotus Chicago. www.mancusomotorsports.com
Lotus, founded in 1952 by Colin Chapman and known for its lightweight sports cars and Formula One racing team, has 50 dealerships in North America and recently moved its US operations to Ann Arbor, Michigan, alongside its sister company, Lotus Engineering.
Mancuso Motorsports, part of the Mancuso automobile family, is located in downtown Chicago, providing an urban setting for Lotus owners and aficionados and brings the almost 100-year tradition of Mancuso excellence to the Lotus marque.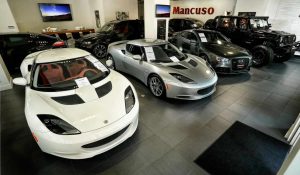 Rob Mancuso, president, said, "Under its new leadership, Lotus is perfectly positioned to capitalize on its legacy of innovative products, unparalleled performance and iconic driving experience. We are thrilled to be a partner in growing the Lotus tradition."
Harry Haderis, Lotus Cars USA president, stated, "Mancuso brings a wealth of expertise and excitement to Lotus. Their passion for our product and great facility and staff bring great value to our brand and will enhance the Lotus experience as we roll out the new 2017 Evora 400."
The Lotus Evora 400, unveiled at the Geneva Show in March 2015, has already generated excitement worldwide. With 400 horsepower, acceleration to 60 mph in 4.1 seconds and a maximum speed of 186 mph, the Lotus Evora 400 is six seconds quicker around the company's Hethel test track than the previous Evora S.
Mancuso is planning a grand opening for January 2016 and will showcase the new 2017 Lotus Evora 400 as well as a rare Exige V6 Cup car built specially for the Lotus Cup Series and fully-equipped for track use. https://vimeo.com/148782975
Mancuso Motorsports Presents the Lotus Exige V6 Cup from Seth August on Vimeo.